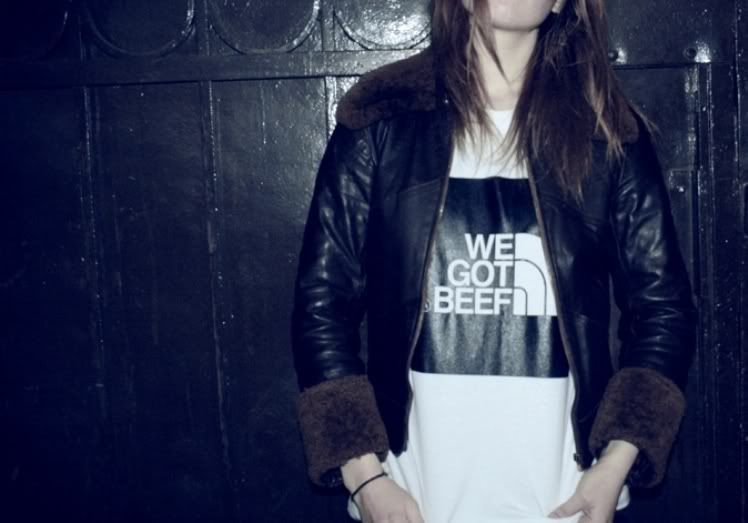 I had a nice weekend, or week, actually it didn't feel like school had started at all, I only missed one class due to remembering my timetable wrong. I've got two courses now and one starting in a week so it's 'chill'. On Thursday I ate 2 slices of blueberry pie my friends had baked and later on danced my heart out with some help of tequila shots at Misfits, Redrum. Apparently, they too want to support young/fresh DJ's by showcasing them at nights called Young Guns which I really appreciate plus their efforts took off super well with Emperatron at the decks. Keep it up!
Friday was the Night of Arts, I spent the afternoon trying to recruit new people to Kiasma's youth group (the finnish in the previous post was about that), it was a success but a one that left me very tired for the rest of the night. The best part of Friday was getting this t-shirt!!! Actually, it was my friends but I asked him if I could have it and he agreed. I wore it happily two days in a row, We Got Beef is a really 'chill' bar in Helsinki. Packed with guys that look like they are either graphic designers, skaters or DJs (or possibly all of the three), just that you know why I go there...Of course I had to spend time there on Friday too just because I was wearing the shirt... I think on Saturday after friends' farewell party I bumped into the designer of the print, it was really funny because he misunderstood what I was asking and thought that I didn't know the place. I mean, I wouldn't wear a band t-shirt featuring a band I've never heard of. Come to think about it, that's such a bashed about subject I'd actually do it just because, like when in the beginning of last week I thought I'd never wear T's with prints.
On Saturday I also went to see two new films at Espoo Cine, The Limits of Control by Jim Jarmusch and a French indie Un Chat Un Chat (Pardon My French), both really good and well costumed. Too well actually...the first had so sleek suits and a pair of sunglasses by Tom Ford that I had to see the credits to see if his name was in them. Later I googled and turns out Jarmusch asked Ford to do the suits but he was swamped so the films costume designer got a good, old tailor in Madrid to do them. Un Chat Un Chat was a very french film in every way, full of Isabel Marant and women with long wavy hair. I think I want to watch both films again!