It's like a broken record when the subject is Finnish fashion. The same names get repeated. But you know, it isn't 2003 anymore, it's time to give these young folks some credit, and put old folks somewhere in the background. This is how I feel: if anyone says Marimekko and IvanaHelsinki in the same sentence with Finnish fashion design, I want to knock them out and when they wake up, they'd be in a room that plays The Rolling Stone's Greatest Hits over and over again, because, IT'S THE ULTIMATE ROCK'N'ROLL BAND AND UHM, THERE IS NO OTHER, EXCEPT MAYBE CCR. Or something. Back to young folks. I've done something like this in the past but this time, diffrent names.
1. Antti Asplund
I don't know if he only does dresses in one size or are they so popular they fly out of the shelves, but I've left 2 dresses to shop just because I couldn't fit in them. I might be fat. Anyways, he's got a nice website too, you guessed it,
http://www.anttiasplund.com/
. Websites are great in general, because then it's not that hard to find out who you are and what your clothes look like and where can you get them. Because I've been contacted about how to get hands on his necklaces - it's easy when you live around Helsinki and can walk to Lux everyday you want. Unless they're sold out. But what to do if you live in Netherlands, and you really want to get one? Hmm, maybe I should try that Little Miss UPS thing that Susie Bubble does.
Here are two pictures via Face Hunter:
A dress. I was going to buy something similar to this, it was yellow though, but my arms were feeling kinda tinned sardine, so sry, no money for you this time.
A necklace. Popular stuff. Oh why did I choose these pictures, JUST GO TO HIS PAGE. Lovely lookbooks!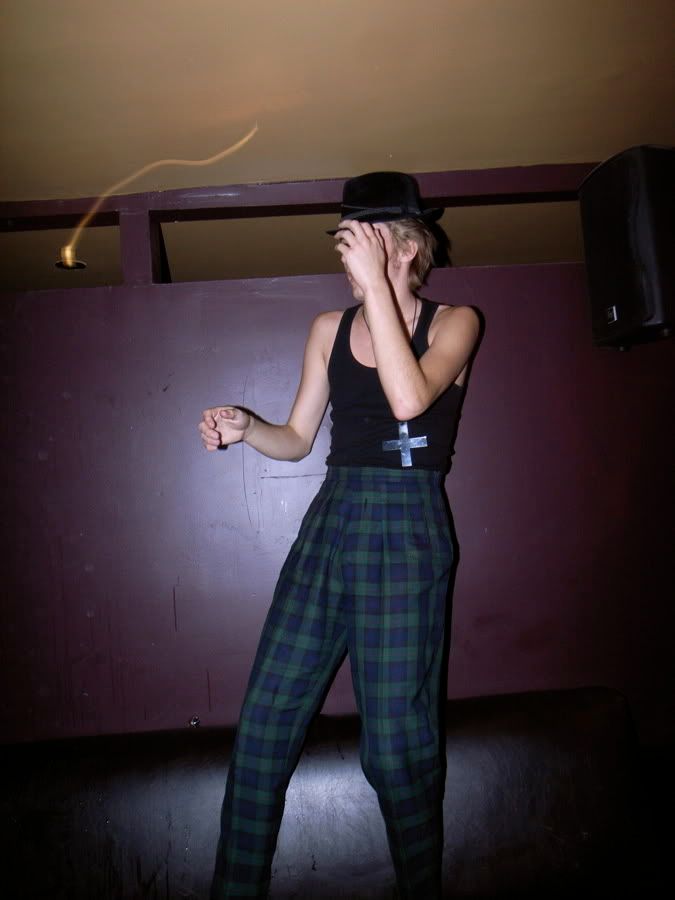 And I once saw a girl wearing one of the brooches in a bar. Great conversation starter! Turns out she got it as a gift and had never heard of him. Too bad. If you want to see his stuff in some other enviroment than bar, just go to his website and see the lookbook and click PRESS. I'm too lazy to screencap any of it. But there are beautifuuuuuuul dresses and so on. His new collection has a hair theme, and every other indie designer has that these days, so it's credible. It's not up on his page though, what a shame.

2.Daniel Palillo

He has gotten a lot of publicity. His stuff just might be on every Hel-Looks page. And he also has an agency to represent him, Finns have hard time to get their stuff out there so that's a good thing. And instead of mentioning that IvanaHelsinki showed in Paris, I'm going with the Daniel Palillo had an showroom for his SS08 collection there! So this means that if the buyers like, this collection will be reached in exotic places in the world, on top of Helsinki (where you can get it from his own shop Wunder and Helsinki10) and Japan. See, his clothes are huge, and for everyone, so they will be popular. Only God or like knows when we are going to get our small clothes back.

A picture from Hel-Looks. The boy is wearing a college thing.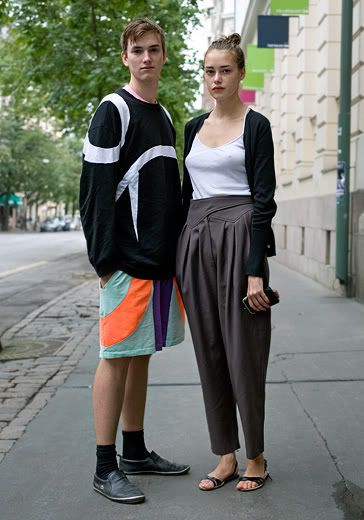 A mushroom dress From New Arrivals exhibition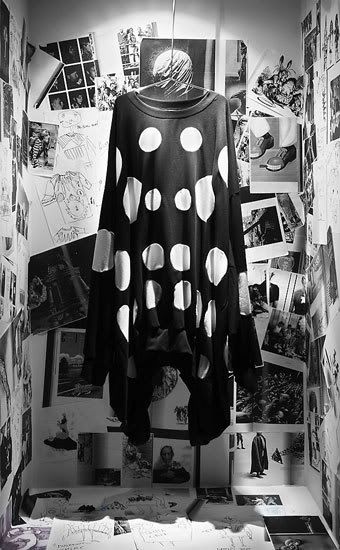 And a look from his SS08 collection via http://www.pickadollagency.com/



So what I like about his work is that it has no sizing. Isn't that wonderfully freeing? While I feel really fat when trying to move my hands in the Antti Asplund dress, or think about the Balenciaga jackets that have size 38 that is too small even for the pin-thin fashionistas out there, this seems genius. Really easy to sell, easy for everyone to wear regardless of size, gender or age. The kind of garment that saves you from the bad world. The kind of garment that makes people smile. And you can wear it forever. I know I'm looking for that feeling when I shop.

3.Laitinen

So if you think, enough of the ugly hipster stuff!!! This is for you. Behind Laitinen stands brother and sister Anna and Tuomas Laitinen. If you google A Shaded View of Fashion, you get many pages, Diane likes them, is that enough? They also won a special jury prize in Festival d'Hyeres last year, and Ann Demeulemeester rooted for them. Sadly, I've lost the issue of Muoto where they told about their experiences in Hyeres. Tuomas Laitinen also wrote columns for Muoto, a very decent design magazine that folded, that's really sad too. He has graduated from Central St.Martins. They held their showrooms in Paris and in Finland you can get Laitinen from Wunder. They are also represented by an agency, http://www.agenturv.de/. You can view their lookbooks there, they're neat. And they also feature Antti Asplund as a model, geez.

Here is a picture from catwalking, Tuomas Laitinen's graduate show in 2004.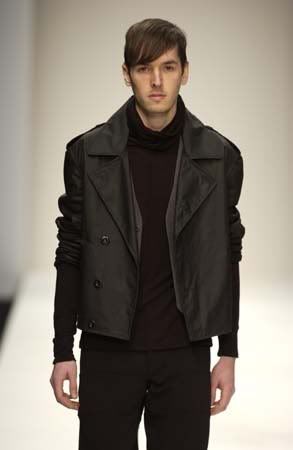 My favorite from their A/W0708 collection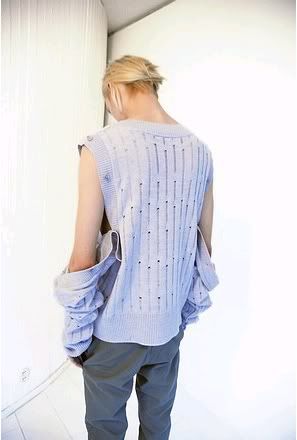 A dress from the SS07 collection, showcased in New Arrivals.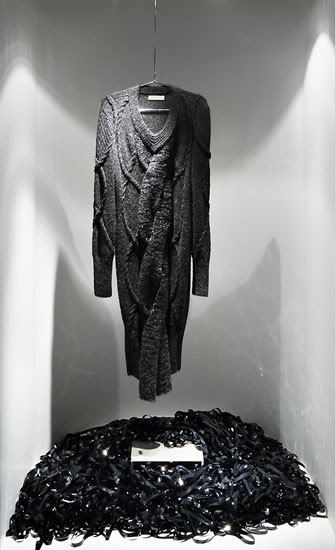 Hand-knit alpaca sweater dress with a giant cable highlighted with VCR-tape.
Methinks that when AW08/09 pops up, I'm going to need a new winter jacket by them!
So if you want to see more of new Finnish Fashion designers, visit the
New Arrivals
page.
It has 15 new designers, each has a little information box, picture of their creation and video where they talk about what they do! A book has also been made out of this.
And little something something too: If you think I'm posting this because I want to get into scene
(a little birdie told me something like this)
then great, didn't you know how much I hate people in general? Or that I've had The Smiths record on rotation for about a week, that follows the Elliott Smith records I've had on rotation for about 4 years? The fashion scene in Finland is this small and I have no intrest in it, really. In Antti Asplunds page I can see two girls from my school modeling the stuff. That's how small it is, and ingrown. I just think that if no one posts about them like they post about Carin Wester, or any of the Scandinavian cool succes stories, then the succes story here is going to take a while. Hmm, maybe I should start a dozen threads in tFS too. People have the power. Who knows, maybe next year we'll see Chloe Sevigny in Daniel Palillo dress, Susie Bubble raving over Laitinen and a Antti Asplund shop in any Benelux country in 2010. Nothing too utopian here, really. Just a lot of press, confidence and right people before this. Here is just my little input to that.